Formula 1 in the rain for Kimi Raikkonen "really ridiculous"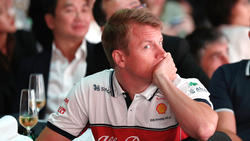 On Saturday driving in Suzuka is not to think because of typhoon Hagibis, but even smaller amounts of water have the Formula 1 in the past causes problems. Either it was not ridden in a bit of heavy rain or the drivers were flown in rows like last time at the German Grand Prix in Hockenheim.
Kimi Raikkonen blames the tire for saying that it looks "really ridiculous" when Formula One cars can not drive on wet tracks. "We know how limited we are with these tires, it does not even need much rain and we have aquaplaning, that's the problem, and then we have zero control."
When the Finn came to the premier class in 2001, that was different. Even with really heavy rain, you never had a problem. Today, the pilots usually wait until they can raise the intermediates to avoid the full-wets. "For sure, the tires are not the best" criticizes the "Iceman".
In addition, due to the Parc-ferme rules, the teams are often limited in optimally adjusting the cars to the conditions. Because you usually want to drive as low as possible, aquaplaining is the result. "It does not look as if there's a lot of water," says Raikkonen. "And then it looks really ridiculous if we can not drive, but that's the way it is: if water runs across the road in a river, we lose control of the car completely."
Rejection stands for Grosjean out of the question
A good example of this is Romain Grosjean, who flew down the start-finish straight in qualifying for Monza two years ago when he set up the full-wets. "That did not look good," recalls the Haas driver. "It always depends on the amount of water and whether the tires work."
Teammate Kevin Magnussen has commented on the quality of the rain tires his own opinion: "They are as good as the dry tires," he laughs. According to Pirelli, however, the tire should displace at a speed of 300 km / h 85 liters of water per second – the Intermediate is 30 liters.
Regardless of the tires, the rejection is today for Grosjean but beyond question: " Wind and safety are in the foreground and they say that the rainfall of a whole month comes down in a single day. "